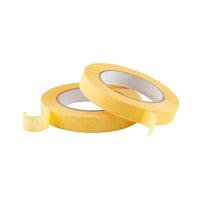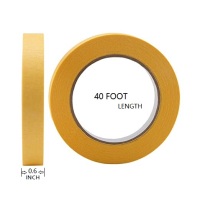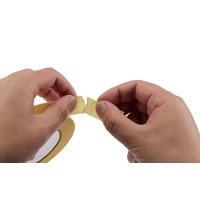 Carwraponline Car Wrap Refinish Masking Tape Yellow 0.6in x 40ft

Vehicle Type
Size
Application

Motorcycle

5ft x 16ft

Harley Davidson Road Glide/BMW R1200GS/Yamaha FZ-07/MT-07/Honda CRF1100L Africa Twin etc.

Micro Car

5ft x 33ft
Smart/Golf Cart/Pickup truck cab etc.

Roadster Car

5ft x 49ft
Mazda MX-5 Miata/BMW Z4/Audi TT/Porsche Boxster/Jaguar F-Type etc.

Coupe Car

5ft x 49ft

Ford Mustang/Chevrolet Camaro/Rohens coupe/Subaru BRZ/Toyota Supra

Mercedes C&E&S-Class Coupe/BMW 2&4 Series etc.

Hatchback

5ft x 49ft

Volkswagen Golf/Volkswagen Polo/Mercedes A-Class/BMW 1 Series/Mini Hatch etc.

Sedan

5ft x 59ft
Ford Focus/Mazda 3/Skoda Octavia/Toyota CamryHonda Civic/Honda Accord/Nissan Sentra/Hyundai SonataTesla Model 3/BMW 3-Series/Audi A4/Dodge Charger etc.

Large Sedan

5ft x 69ft
Mercedes S-Class/Audi A8/BMW 7 Series etc.

Small SUV

5ft x 59ft
Toyota RAV4/Chevrolet Equinox/Honda CR-V/Nissan Rogue/Hyundai Tucson Mazda CX-5/Mazda CX-5/Ford Escape/Ford Bronco Sport/Hyundai Santa Fe Jeep Grand Cherokee/Jeep Wrangler/Toyota Highlander/Subaru Outback/Lexus RX etc.

Large SUV

5ft x 69ft
5ft x 69ftFord Explorer/Land Rover Range Rover/Jeep Grand Wagoneer/Lincoln Navigator/Mercedes GLS etc.

Pickup Car

5ft x 59ft
Ford F-150/ Chevrolet Silverado 1500/Ram 1500/Toyota Tacoma/GMC Sierra 1500/Toyota Tundra etc.

MPV

5ft x 69ft
Honda Odyssey/Toyota Sienna/Chrysler Pacifica/Dodge Grand Caravan etc.
Please note that these chart is an approximation, you would best to take the time to measure each part of your vehicle to ensure the correct amount of vinyl is purchased. Always purchase more to account for errors or wrong measurements.
See more
Description
1 Carwraponline Car Wrap Masking Tape is a yellow crepe paper masking tape designed specifically for when the car wrap is wrapped on the surface of the vehicle and needs to be cut with a carving knife on the sheet metal line, it is attached to the paint surface of the vehicle to protect the primer. The car wrap blog of using masking tape: How To Remove the Car Logo and Decorative Strips
2 Its robust paper backing resists solvents and moisture while being flexible enough to fit most curves and contours. The proprietary rubber-based adhesive formula allows the tape to stick and say on a variety of surfaces.
3 Easy to tear and remove with no residue left behind, no need to worry about cleaning up sticky spots on walls after painting or on items that you have labeled, good holding power to help resist lifting or curling, special backsize treatment provides easy to use controlled unwind.
4 General purpose masking tape provides excellent adhesion to a wide variety of surfaces in a number of fields, light bundling, packaging and closing, and light duty masking and sealing etc.