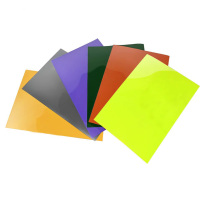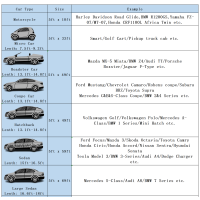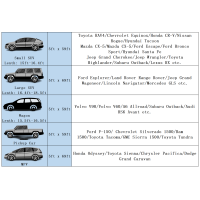 A4 Sample Vinyl Wrap
Car Type

Size

Example

Motorcycle

5ft x 16ft

Harley Davidson Road Glide/BMW R1200GS/Yamaha FZ-07/MT-07/Honda CRF1100L Africa Twin etc.

Micro Car

5ft x 33ft

Smart/Golf Cart/Pickup truck cab etc.

Roadster

Car

5ft x 49ft

Mazda MX-5 Miata/BMW Z4/Audi TT/Porsche Boxster/Jaguar F-Type etc.

Coupe

Car

5ft x 49ft

Ford Mustang/Chevrolet Camaro/Rohens coupe/Subaru BRZ/Toyota Supra




Mercedes C&E&S-Class Coupe/BMW 2&4 Series etc.

Hatchback

5ft x 49ft

Volkswagen Golf/Volkswagen Polo/Mercedes A-Class/BMW 1 Series/Mini Hatch etc.

Sedan

5ft x 59ft

Ford Focus/Mazda 3/Skoda Octavia/Toyota Camry




Honda Civic/Honda Accord/Nissan Sentra/Hyundai Sonata




Tesla Model 3/BMW 3-Series/Audi A4/Dodge Charger etc.

Large

Sedan

5ft x 69ft

Mercedes S-Class/Audi A8/BMW 7 Series etc.

Small

SUV

5ft x 59ft

Toyota RAV4/Chevrolet Equinox/Honda CR-V/Nissan Rogue/Hyundai Tucson




Mazda CX-5/Mazda CX-5/Ford Escape/Ford Bronco Sport/Hyundai Santa Fe




Jeep Grand Cherokee/Jeep Wrangler/Toyota Highlander/Subaru Outback/Lexus RX etc.

Large

SUV

5ft x 69ft

5ft x 69ftFord Explorer/Land Rover Range Rover/Jeep Grand Wagoneer/Lincoln Navigator/Mercedes GLS etc.

Wagon

5ft x 59ft

Volvo V90/Volvo V60/A6 Allroad/Subaru Outback/Audi RS6 Avant etc.

Pickup

Car

5ft x 59ft

Ford F-150/ Chevrolet Silverado 1500/Ram 1500/Toyota Tacoma/GMC Sierra 1500/Toyota Tundra etc.

MPV

5ft x 69ft

Honda Odyssey/Toyota Sienna/Chrysler Pacifica/Dodge Grand Caravan etc.
Please note that these chart is an approximation, you would best to take the time to measure each part of your vehicle to ensure the correct amount of vinyl is purchased. Always purchase more to account for errors or wrong measurements.
1 x A4 Sample
3 x A4 Samples
6 x A4 Sample
Pressure Sensitive Acrylic Adhesive: Remove without leaving any residue, without damage to the original paint.
High Density Air Release Channel: Air bubble free after installation, It's slidable and repositionable.
Premium Polymeric Calendared Vinyl: 6 layers' structure with high color saturation, scratches can be self-healed after heating.
See more
Description

Specifications
Description
Please contact service@carwraponline.com for what colors you want (or leave the SKU No of the Specification in the messege).
Carwraponline has more than 400 colors on our original color swatch. But we notice personal customers don't need all colors and just would like to test some colors only that they like. So we are launching an A4 samples and our customers could see more and install it on the vehicle to see the color.
Specifications
Brand
Aluko
SKU
9011
Size (mm)
Width: 1520±0.01% Lenth: 1800+1% (Standard roll size)
Top protected film (um)
35±2% (PET/PVC)
Surface materials (um)
110±2% (High-grade PVC-Polymeric)
Glue (um)
28±2% (High performance low initial viscosity acrylic adhesive)
Release liner (um)
170±2% (paper)/120±2% (PET)
Adhesive
Acrylic-based, reposition able, slideable
Release force (N/25mm)
0.13 (25℃ and 50%)
Initial tack (g/25mm)
903 (26℃ and 64%, GB31125-2014)
Peel Strength (N/25mm)
4.5 (25℃and 42%, GB/T2792-1998)
Holding power (h)
75.09 (25℃ and 50%, GB/T4851-1998)
Breaking strength(%)
>200%
Shelf Life
2 years(stored in +10°C to +35°C, relative humidity 50%, in original package, away from direct sunlight, clean and dry place)
Application temperature
From +15℃ to +40℃
Aging Test 1
No adhesive residue with heat(7 days under 65°C)
Aging Test 2
No adhesive residue without heat(10 days under 65°C)
Shrinkage
less than 4%
Expected durability
5-7 years
Skill level needed
Low